This site is dedicated to the spirit of the drum, an instrument of healing, happiness, and community.  The I am the Drum Project is my tribute to the power of the drum to transform the lives of those who absorb its energy when heard or played.  I am Mark Farley and I was introduced to the drum by my mother, Carrie "Big Mama" Farley.  She discovered the drum when she began performing with her troupe, Tabia. That's where she felt the spirit of the drum and wrote the poem "I am the Drum."  

Big Mama tried to introduce me to the power of the drum, but Silicon Valley life kept me blind from its power.  Finally, I decided to attend a class with her and the journey began.  Music has always been an intimate friend to me.  Whether singing in my father's Southern Baptist church, playing "first chair" saxophone in junior high school, or singing opera with the Opera Institute of San Jose, I have always had a strong connection with music performance.  The drum was different than any other musical experience for me.  The drum accesses both hemispheres of the brain creating a oneness only found in deep meditation.

The I am the Drum Project involves the healing power of the drum to transform people of all walks of life through drum circles, drum lessons, performances, and healing sessions for schools assemblies or anti-bullying programs, music therapy for stroke recovery, brain trauma, severe injury recovery, businesses interested in increasing employee morale, drumming circles, senior centers, and special needs organizations. 

Some of my accomplishments include:
NAACP Award for Academics and Sports

First chair saxophone in Walton Jr High School Orchestra

Over 500 drum performance and workshop hours for organizations such as San Jose Unified School District, San Jose Juvenile detention Facility, San Jose Mayor's Gang Prevention Program, Santa Clara County, Silicon Valley FACES, San Jose Black Educators, Women's Council of Churches, Morgan Autism Center, Martin Luther King Library of San Jose, Milpitas School District, Corinthian House Senior Center, Good Samaritan Hospital, El Camino Hospital, Live Oak Senior Day Care Centers, Pacific Stroke Association, and many more

Graduate of UCLA Beat the Odds evidence based curriculum for social and emotional skills building delivered in a framework of drumming

2015 NBC Bay Area Proud recipient

My journey with the drum has been so rewarding that by sharing this energy, I am fulfilled in life.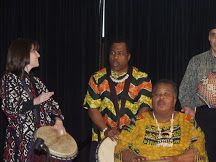 "

Thank you for the most amazing experience for our seniors. They haven't stopped talking about how stimulating the drumming was. We look forward to having you back."
— DM
"

"Having never touch a drum before, I was a little nervous. Mark was able to convince me to relax and imagine I was walking with my hands on the drum. It worked! For two years, I am a regular at drum circles confidently playing and enjoying it at 87 years of age! "
— MJ 87 year old and wheelchair bound